81
For those of you who just have a WordPress website , maybe you are confused whether you want to use premium or free WordPress theme. Premium WordPress theme are paid WordPress theme that you can get from third parties outside the theme provided by WordPress. Maybe you are also wondering why you have to use premium theme if you can use free theme ?
[lwptoc width="full" backgroundColor="#81d742″ borderColor="#81d742″]
Choosing a theme for a website is n't just about how it looks. You should pay attention to what features work for your website content and what you want to achieve with your website . Simply put, use the free WordPress theme if you:
Want to start a blog

 personal .

It doesn't matter if your website has the same appearance as millions of other websites .

Just chasing the basic usability of the website

Does not require a lot of technical support to develop the site.
On the other hand, you should choose a premium WordPress theme if you:
Use the website to run a business online.
Want to expand the website's usefulness by using features like e-commerce.
Want to have a unique website appearance.
Requires technical support to develop the website.
If you choose to use premium WordPress theme, the first step before choosing what type of theme you want is to define your website type first. If you want to create a website for a photography portfolio , a blog about food, or an e-commerce website , you certainly need to choose the appropriate WordPress Theme. Also note, you need to spend extra effort to run and manage your website if you choose a complete theme to get additional features and functions.
What do you get with WordPress Premium Theme?
Similarly, if you choose hosting , you can also consider premium WordPress theme as an investment for your business. These paid theme are not referred to as premium theme simply because the prices are "premium," but they also provide premium features. From responsiveness to optimization, these are the factors you need to consider when choosing a theme.
When you find the perfect option for your website , you not only get a functional theme but also technical support , regular updates, extensive customization options , and website security . In addition, premium WordPress themes are also more unique than other WordPress theme. Here are some elements that you need to consider when choosing a premium WordPress theme:
Standards-compliant

Make sure that the theme has been updated to the latest versions of WordPress, PHP, CSS, and HTML.

Responsive

Your WordPress website must use a responsive theme because Google calculates mobile-responsiveness or how responsive the layout is on mobile as one of the device factors on the search results page.

Compatible for all browsers

You also need to make sure that your website can be accessed through a variety of different browsers so that visitors can access the website easier .

Freely adjustable

Give yourself a chance to work by adjusting the existing theme to your liking, therefore you need to check whether the theme can be adjusted.

Works well with other plugins

In addition to having a script that has been updated, responsive, compatible in all browsers, and can be customized, you also need to make sure the theme that you want to use can work optimally when combined with other plugins that you want to implement.
WordPress Theme Framework
There are several WordPress themes created using frameworks , while others are built from scratch. In general, this framework is best described as the foundation for a WordPress theme. Typically, a framework will contain core code, including basic features and design elements.
This theme is then used as a starting point when new themes are created. New features and design elements are added to the framework for creating finished products. The WordPress theme framework is divided into two main categories.
First, you have an internal framework that has been built for use by certain themes. Then there is a framework that anyone can use as the foundation of their project. Some frameworks in this category are free to download.
You can also find free or commercial themes built on the framework. You can buy the framework and then use commercial or free child themes created with this framework by others.
Child theme is a WordPress theme that inherits functions from its parent theme. Unlike the usual themes, child themes can be tinkered as desired. Child themes can be used when you want to customize an existing WordPress theme without losing the ability to update the theme.
In the past, there was no easiest way to update a WordPress theme without losing all the styles and adjustments you have made. But in child themes, you can make changes without losing the adjusted function because the function is indeed derived from the parent theme. Later, this can help simplify the transition process if you want to change the look of the website.
The Best and Most Popular Premium WordPress Theme in 2020
If you are looking for the best premium WordPress themes, here is a list of the best and most popular premium WordPress theme in 2020. Here, you will find several theme packed with demos for each type of project. You will also find theme that feature page creation and customization tools, or third parties that create designs specifically for your WordPress site.
The most popular WordPress premium theme also includes various features that will upgrade your website from a standard blog to a great publishing platform . If you want to create an online store that works best or only list a few items for sale on your website, there are also theme specifically designed for e-commerce in this list.
This is the most popular premium WordPress theme and any theme you choose will help you have a website with a unique and attractive appearance.
Newspaper by tagDiv
Newspaper is a WordPress theme that lets you write articles and blog posts with ease. We offer great support and friendly help!
Create a great news website with our newspaper theme. This bestseller theme is perfect for blogging and excellent for a news, newspaper, magazine, publishing or review site. It supports videos from YouTube. AMP and mobile ready. GDPR compliant, the theme is fast, simple, and easy to use for a cryptocurrency, fashion, food, lifestyle, modern, personal, travel, luxury, viral, minimal, minimalist projects and more.
Integrated with Instagram, bbPress Forum, BuddyPress and WooCommerce, it uses the best clean SEO practices. Newspaper supports responsive Google Ads and AdSense.
X
X is one of the premium WordPress Theme that you can use to create various types of websites .
This one theme provides four main categories so visitors can demonstrate their flexibility. Each category contains variations for various types of projects. Thus, whatever type of website you want to create, from business home pages , online portfolios , to e-commerce and ordinary blogs, you can use X to meet the needs of your website theme.
X also uses Cornerstone, which is one of the best WordPress page builders . This page builder tool uses a drag-and-drop front-end system, this can make it easier for you to set up a website. The large number of modules available at Cornerstone can make it easier for you to set up a website layout and incorporate various elements to make your website look more unique than other websites .
As a premium WordPress theme that is flexible and equipped with various features, X is one of the best premium WordPress theme that deserves to be looked at.
Divi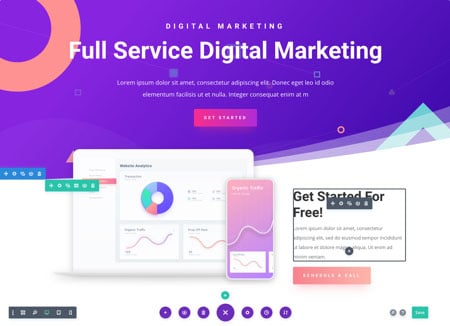 Using the motto " the sky is the limit ," Divi offers unlimited customization features and superior functionality. Before the presence of Divi, adjusting themes and theme can only be done by a website developer ( developer ). At present, Divi is the main Elegant Themes theme that uses drag-and-drop features and an attractive collection of theme inventory. Because of its features, Divi can be used to create layouts on various types of websites.
Divi has a feature called Divi Builder. One problem that is often experienced when using builders from other theme is limited layout adjustments, while Divi on the other hand allows users to change the entire theme. You can change the color, icon , page, and format of the upload. This method is the wrong step you can take to create a dynamic website appearance without doing any coding . Apart from that, Divi Builder also uses a drag – and-drop interface so that it's easy for anyone to use.
Divi has 18 different layouts and you only need to install the theme and start uploading the contents of your website . This theme design is quite responsive and this efficient theme is the right choice for whatever display you want to show on the website. Responsive theme can also improve your ranking on Google Search because Google can detect the speed and responsiveness of a website to assess the website's credibility and appropriateness to be recommended to users.
Avada
Avada is one of the premium WordPress theme most widely used by website owners because of the ease of the tools they have. Because, Avada users can use the Fusion Core plugin which contains a page builder , shortcode generator , mega menu, and many more . If these features are combined with more advanced theme choices, you can create a unique layout view without the need for any coding.
Flatsome
Flatsome is an e-commerce theme that combines several e-commerce design trends so you can create an attractive website and can increase conversions for your business . Built by a team from UX Themes, this premium WordPress theme is a theme created specifically for websites with WooCommerce .
In addition to several e-commerce demos, this theme also includes various types of online stores. The premium WordPress Flatsome theme also has a builder tool that can be easily dragged and dropped. This tool makes it easy to create designs and layouts specifically for your website, including storefronts and individual product pages that make up your online store.
In order to ensure the comfort of your website visitors via mobile phones, Flatsome is deliberately made responsive for mobile users. Smartphone and tablet users can access the website , add items to their shopping cart, and checkout easily, even only through their mobile devices. Flatsome is suitable if you use your website to sell products that you want to sell.
Bridge
Bridge is one of the most popular WordPress theme since it was released in 2014. Since then, Bridge has been updated frequently and has now reached version 19.5 on December 23, 2019.
In the latest version, the WordPress Bridge theme has 145 demos. This means, no matter what type of website and design you want, you will find your favorite layout among the 145 types of layouts that have been provided.
However, if you don't find a demo layout that matches your expectations, you can combine the elements and then create a design for your website as you wish. You can also find the Visual Composer plugin that helps you easily make modifications or edit your own website layout from scratch.
The large number of demos makes Bridge one of the best premium WordPress theme. Of course, Bridge also has a variety of features that can help you create unique and interesting websites .
Genesis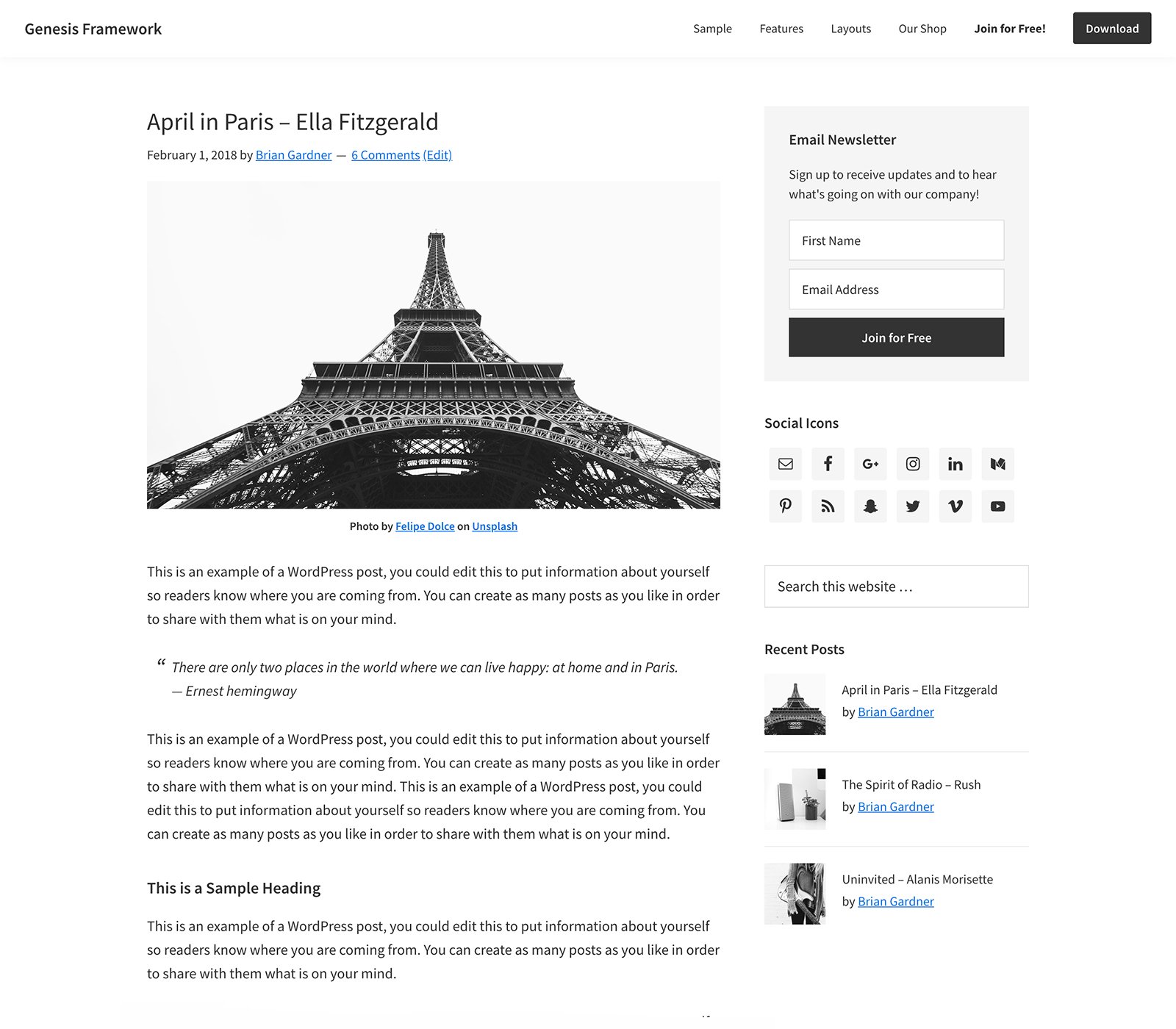 Genesis is one type of theme that is often used by website users . This one theme is guaranteed safe, optimized for SEO, and easy to customize. The reason is, Genesis was designed specifically to be integrated with child themes . You can buy from StudioPress or create your own child theme .
This multifunctional theme will suit you if you have experience in the field of web developing , although you can still learn it self-taught. If you are a beginner who wants to use the Genesis theme, you should first use the child – theme .
Foodie Pro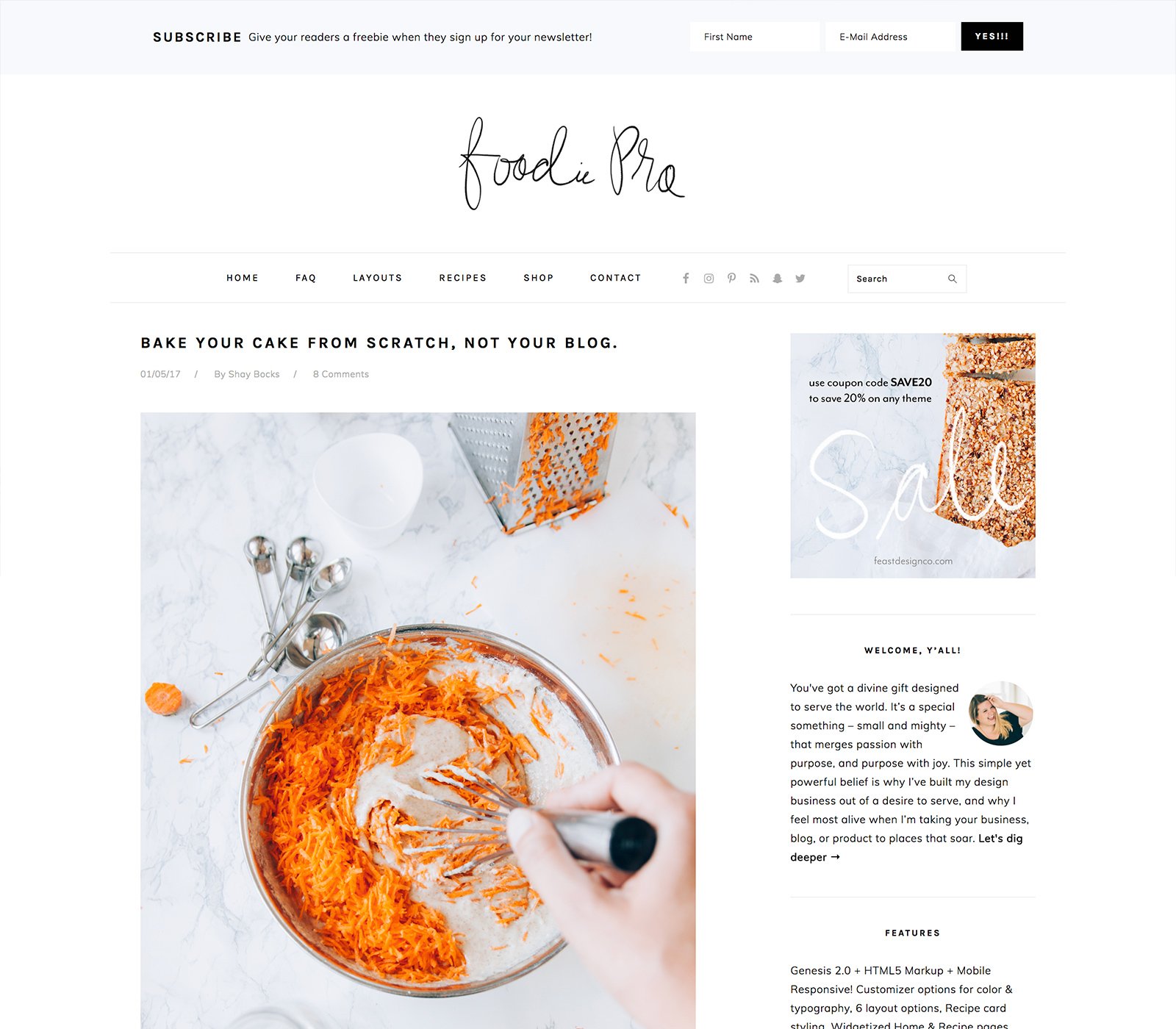 One example of a Genesis child-theme is Foodie Pro . Unfortunately, this one theme is not very suitable for all types of websites . Because, Foodie Pro is made specifically for you who want to create a food or culinary blog .
Foodie Pro has been created to use the Genesis framework . This means, your site will be built on a solid foundation and combined with Foodie Pro's stylish design and the power of WordPress.
If you choose Foodie Pro for your website, you will get six layout options, including to customize and manage the widgets that you want to display on the website page .
For those of you who are interested in creating a website about culinary choices and don't want to feel overwhelmed by decisions and choices, Foodie Pro and its elegant approach to design can be the right choice.
You can also watch the following video for further discussion.
Conclusion
WordPress premium theme can be considered as an investment if you do business using a website. It is undeniable, an attractive appearance is one of the attractions of a website . Therefore, there is nothing wrong if you invest time and effort to compile a theme for your website layout .