75
If you are looking for the best theme for your WordPress website , you surely know that there are a large selection of WordPress themes out there. With so many free WordPress theme out there that want to get your attention, there are a few themes that might stand out to you. Most well-known themes are paid but people are willing to pay for these themes because they work well and have good support. That way, you can use it easily.
In this article, we will discuss various best and most popular WordPress themes. But before that, let's first discuss what themes or WordPress themes are.
[lwptoc width="full" backgroundColor="#81d742″ borderColor="#81d742″]
WordPress theme Definition
WordPress theme, or often also referred to as WordPress themes or WordPress themes are the design of your website, including the layout. Changing your WordPress theme means changing the look of your website's front-end – or what your website visitors see when they access your website. WordPress itself provides hundreds of theme through their WordPress Theme Directory. You can also use your own homemade WordPress theme. If you don't want to create your own theme, there are lots of WordPress theme for sale out there, from cheap to expensive.
The theme it self takes the content and data stored by WordPress and displays it in a browser. When creating a WordPress theme, you decide how the content looks and appears. There are many choices available to you when building your theme. As an example:
Your theme can have a different layout, such as static or responsive, using one or two columns.

Your theme can display content wherever you want it to display.

Your theme can determine what devices or actions make your content visible.

Themes You can customize typography and design elements using CSS.

You can include design elements such as videos and images on the look of your website through the WordPress theme you are using
WordPress offers a variety of themes. But like web design projects, themes are certainly more than just elements such as colors and layouts. Nice and attractive themes can be of more value to your website. By using attractive themes, you can increase engagement with other content and activities on your website.
Is the free WordPress theme good?
When you are looking for a free WordPress theme for your website, you may often hear bad things about free themes. Many people assume that free themes are low-quality themes. Even though there are really theme out there that are fairly basic, there are also plenty of free themes that are already good. With the availability of thousands of free WordPress themes out there, finding a good and optimized free theme is not impossible. Free WordPress theme are usually simple and easy to use so users who don't have coding skills can still use them easily.
Incredibly, there are several free WordPress theme that have a beautiful appearance, are simple to use, and have a good user experience. Premium themes can be too complicated for novice WordPress users. Some premium themes are filled with so many features that you might never use if you want to create a simple website for your business.
Here are some points that might convince you that there is nothing wrong with a free WordPress theme.
Free. 

Of course, anything that is free can attract attention.

 

You can start your website with little or no money at all.

Low quality is just a myth. 

Fundamentally, there are no more useless WordPress themes because now all WordPress themes are rigorously tested so that they do not violate WordPress guidelines and standards before they are placed in the WordPress theme directory.

 

Messy coding themes will not enter the theme directory.

You can trust the theme provider. 

Out there, there are many WordPress theme providers that focus on creating WordPress themes.

Premiums theme. 

Most free themes now are Premium themes.

P

remium is a combination of free and Premium words.

 

What is meant by Premium is a free theme that has a premium version.

 

If at any time you want to upgrade your theme to the premium version, you can immediately do it easily.

 

The premium version also usually has more features and better support.
List of the Best Free WordPress Theme
Choosing the right free theme can certainly be a difficult thing to do. Therefore we have collected several free and best WordPress themes that you can try for your website.
Hestia
Hestia is a multipurpose WordPress theme. This very popular layout is suitable for creating various types of websites including business, corporate companies, portfolios, e-commerce and many more. This WordPress theme is also compatible with WooCommerce. This is one of the reasons why Hestia is suitable for creating online stores . Hestia is also integrated with the SiteOrigin page builder plugin which will help you easily create a good landing page. This WordPress theme is also based on the WordPress Customizer tool which let you customize everything about this theme. This theme has also been optimized for SEO and can work with various WordPress plugins.
MedZone
For those of you who want to create a website related to the world of health and medical, you can choose the MedZone theme. This one theme is specifically made for clicks and other medical institutions.
MedZone has a professional concept that is intended for an organization. This theme provides a staff page, online stores, and sections that show the most recent posts. With this theme, you get a layout and a blog with a simple menu. This theme also provides a sidebar. They also provide an ambulance and emergency call system. You can also include instant access to important services that you provide.
MedZone is made with Google Fonts for typography and has also been optimized for retina displays. This layout is also responsive so that MedZone can directly adapt to any screen size. You also have unlimited content pages and can set up an easy to use appointment or appointment system. Clients can also create accounts and log in to your website to manage their appointments.
Not only that, MedZone is also ready to be integrated with WooCommerce and WordPress Multilingual Plugin (WPML). With these two tools, you can translate all the text and create a store easily. They also provide support and updates that are constant and free.
Auberge
Auberge is one of the best WordPress theme. With a 5 star rating, the Auberge has been downloaded more than 30000 times. This popularity is certainly proof that Auberge is one of the favorite WordPress themes.
With this one theme, you can present your content with high resolution. Out there, many websites have to face resizing and compatibility issues. Fortunately, Auberge was built with a 'mobile-first' mindset to ensure that users who access websites from mobile devices will get the same experience as those who access websites from PCs.
This theme is arguably flexible, but actually Auberge is more devoted to cafes and restaurants. Building your page is not difficult at all. Auberge supports the Beaver page builder plugin. Both beginners and someone who is an expert in using code can build your website well.
You can also customize the colors for your website. You can choose an unlimited variety of color palettes and this can help you build a website with the look you want. This theme will also work with various browsers.
Shapely
Shapely is one of the best WordPress theme. This one theme can be said to be practical and beautiful. This theme developer successfully combines high functionality with stunning graphics. In addition, the design is also compatible with various devices such as mobile phones, tablets, laptops, and Android, iOS and Windows computers. In addition, this one theme also supports retinal displays which allow you to enjoy the sharp display of graphics, text, and vector icons. This WordPress theme is also compatible with various WordPress plugins such as Contact Form 7, Google Analytics, Yoast SEO , and Gravity Forms.
Illdy
Illdy is a flexible multi-purpose WordPress theme to use. This one theme has been designed and developed to be the most comprehensive WordPress theme and can be used free of charge.
Equipped with WordPress Live Customizer and several widgets and icons and shortcodes that are ready for use on devices with a retina display. Widgets, icons, and shortcodes can also be configured according to your wishes and needs. Illdy has been carefully prepared to create a sophisticated and modern website with various reliable features and you don't need to write any code.
Built with bootstrap coding, Illdy can be used and accessed from a variety of devices, browsers, platforms, screen sizes, and orientations. Therefore, if you use the Illdy theme, your website will always look good wherever they are accessed. They are also compatible with various plugins such as Contact Form 7, Yoast SEO, and NextGen gallery technology. If you choose Illdy, all you have to do is add content.
Constructzine Lite
Constructzine Lite is a beautiful and responsive WordPress theme. This theme is arguably suitable for corporate websites. This theme has a perfect pixel design so it will look good on smartphones, tablets and desktops. You can also change the theme's settings with a simple selection panel. This Constructzine Lite theme has a social menu, are widgets in the footer and sidebar, and a clean blog theme. This is what makes this theme suitable for business websites, portfolios, hobbies and blogs.
Meridian One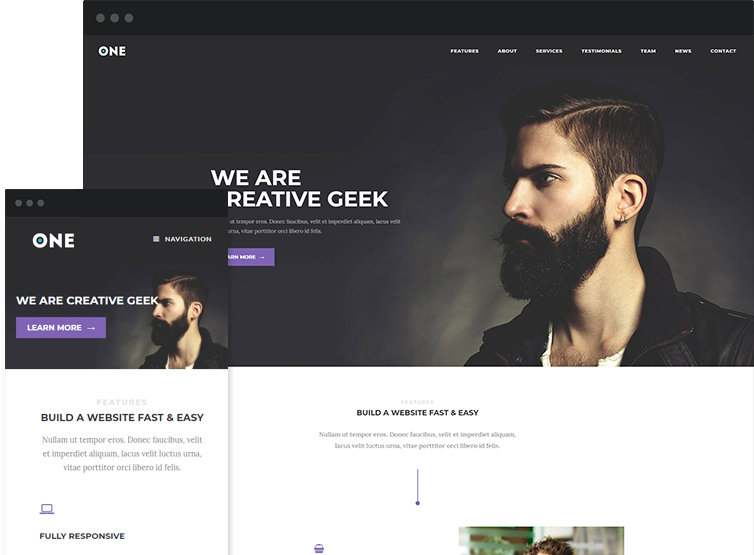 Meridian One is a super flexible one-page WordPress theme. This is one creative theme that can be used both for individual or business purposes. This could be the right choice for a creative agency. If you want to build an e-commerce website with this theme, you also don't need to worry because this theme is compatible with the latest version of WooCommerce. In addition, this theme also offers features such as a homepage with several sections, a special section for blogs and also a testimonial page and an area for team members. This theme is also optimized for speed and search engines. That way, this theme helps your website to be better than competitors.
Zerif Lite
Zerif Lite is one of the best free WordPress theme. This theme is one of the most famous WordPress theme because of its attractive capabilities and design. Zerif Lite is also responsive and can adapt to any device. In addition, you can use this theme to create several types of websites: corporate business websites, agencies, one-page websites, portfolios, and e-commerce websites.
Simpleshift  
This WordPress theme is simple but offers a very beautiful design that can give many changes to your business. Simpleshift offers a simple, smooth, sleek design and parallax scrolling effect to amaze site visitors. This theme is very responsive and optimal for mobile devices. This theme is built with Live Customizer which allows you to fully customize the theme with live previews. Furthermore, you can use custom widgets to beautifully build your homepage. You can create a one-page website, landing page or business site using this theme.
Vertex
Vertex is a free WordPress blog theme with a unique style. This one theme is perfect for creative people. This layout has a vertical menu and slideshow of images in the background.
This theme offers several post layouts, both in grid and list form. Not only that, they also support video posting. Built with XHTML and CSS, this WordPress theme is also responsive and modern. This theme is also friendly for social media, optimized for SEO, fast to load , and safe.
Everly Lite
If you are looking for a simple and minimalist WordPress blog theme. Well, Everly Lite can be the right choice. This is a free WordPress teheme that is responsive and designed specifically for bloggers, writers, and anyone who wants to share their stories. This theme allows WordPress users who don't have coding skills to build WordPress blogs with an elegant appearance and powerful features.
Everly Lite also offers four homepage designs that you can choose from and further customize to create a unique blog look. There are four demos to choose from, namely default, grid style, full width, and magazine style.
For your own customization, you can use Google Fonts to change your website's font. They also provide video, gallery, audio, standard, and link post theme. In addition, their website has also been integrated with Instagram and Facebook feeds. About SEO, you also don't need to worry because Everly Lite has been optimized for SEO.
Conclusion
The 11 free WordPress theme above are just a few of the various free WordPress theme available out there. Now many WordPress theme have various interesting features that are not inferior to premium theme. As you can see, free WordPress theme are now optimized for SEO and maximum loading speed. In addition, they can also be adjusted to your wishes as a website owner easily. Building an online store is no longer a problem because WordPress theme now support this feature. Hopefully this list can help those of you who are looking for theme for your website!